Stories of conversion
Publié le 19/05/2020
Father Pierre de la Bigne welcomes new catechumens into his parish of the Rosary in Taipei. He has sent us several accounts of conversions: a lady tourist who experienced transcendence during her visit to Notre-Dame cathedral, a former mafioso searching for redemption and a young girl who wanted to join a religious order.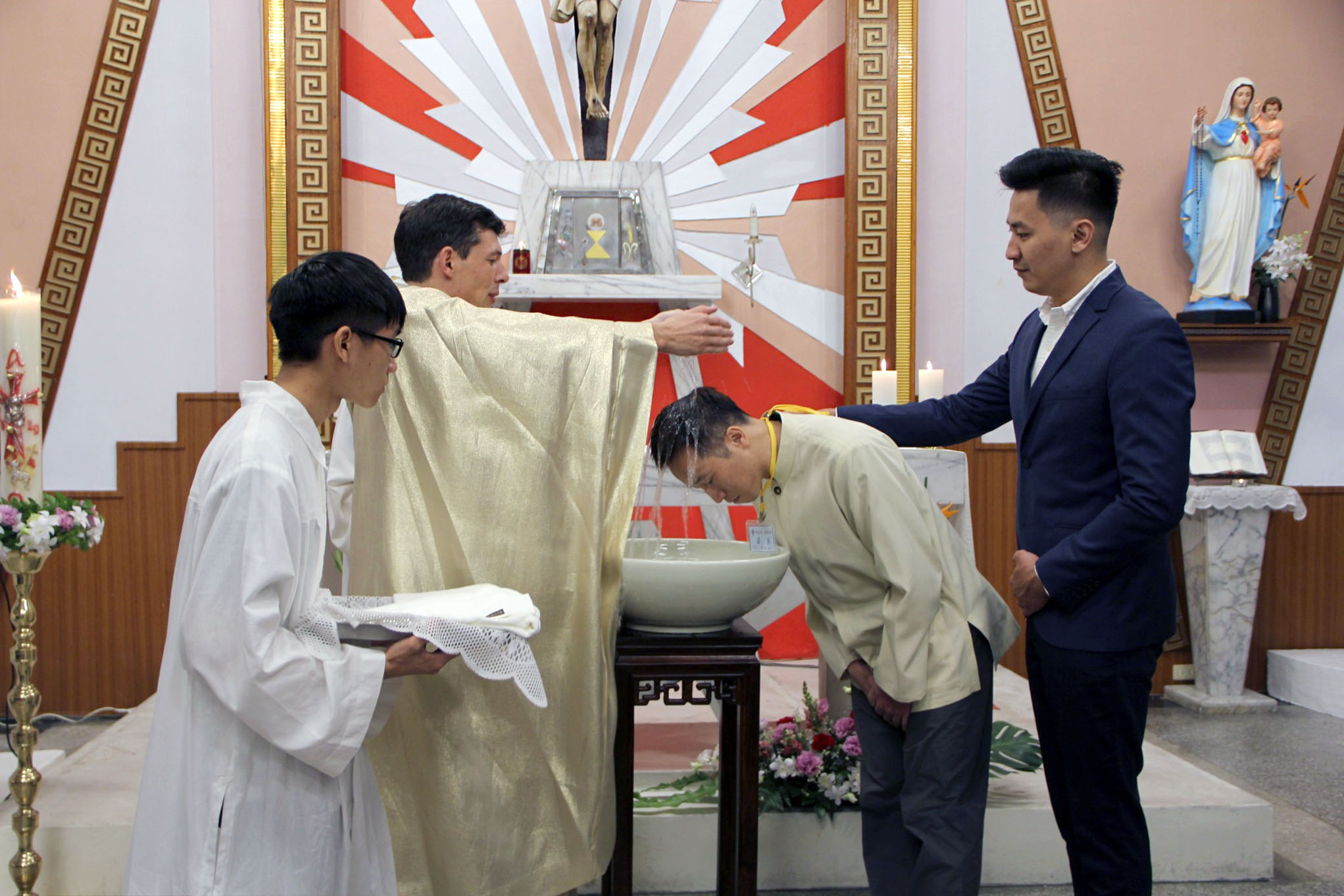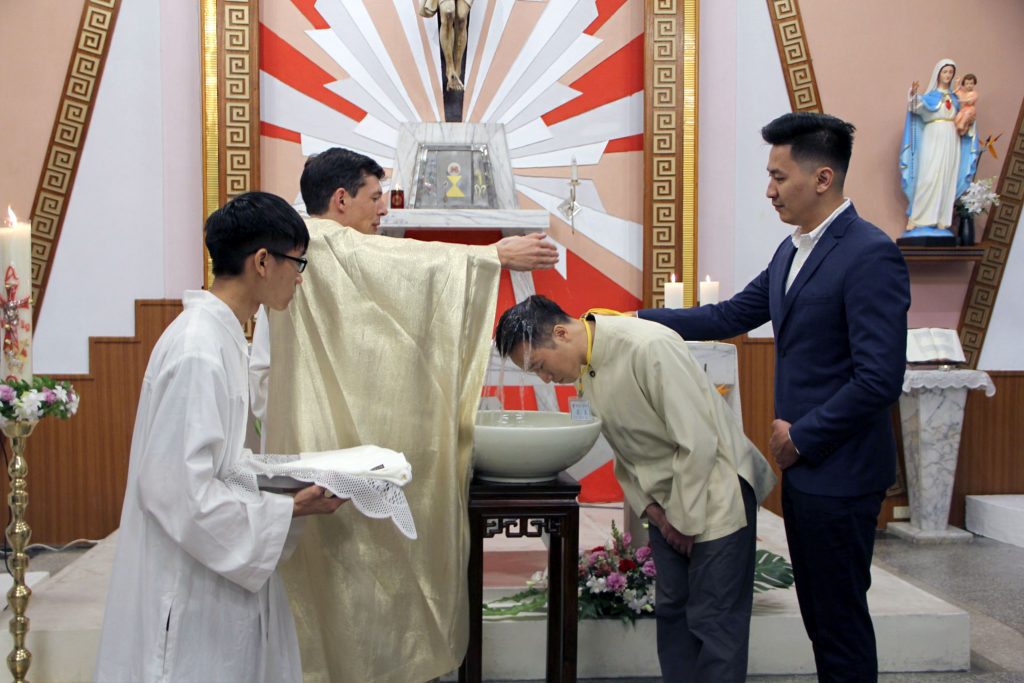 One of the great delights in my new ministry as the priest in the parish of the Rosary is meeting catechumens. Despite a congregation that is relatively small and advanced in year – some 250 faithful on a Sunday – some parishioners have a wonderful missionary zeal that resulted in the baptism of sixteen new Christians at Easter last year. Twelve catechumens will be baptised this year. The joy in these meetings comes primarily from wonder at the work of the Holy Spirit, who is way ahead of us in people's hearts. He wants to expand and he does. Here are some gems from meetings with catechumens, which witness to God's desire to make Himself known to the Taiwanese whom he calls to salvation. We can only welcome with wonder in our hearts those whom the Holy Spirit sends to us. After all, did Jesus not tell us: 'You should not be surprised at my saying: you must be born again. The wind blows wherever it pleases. You hear its sound, but you cannot tell where it comes from or where it is going. So it is with everyone born of the Spirit' (John 3, 7-8).
'In Notre-Dame, I felt washed clean'
PeiIing is around fifty years old and is single and very involved in her work. She went as a tourist to France with some friends. In Paris, she visited the Louvre and many other monuments. Then it was the turn of the must-see Cathedral of Notre-Dame, where she went with no preconceptions. However, as soon as she stepped into the cathedral, she was dazzled by the presence of the Blessed Virgin Mary. She felt she was being held, wrapped in the presence of Our Lady who had been waiting for her. Walking into the cathedral, she suddenly recognised that she was a sinner and felt an enormous need to be forgiven – but that did not make her despair; on the contrary, she felt a great sense of peace. When she left Notre-Dame, she said that she felt 'washed clean'. From the time she experienced that sweet and powerful sensation, she started to pray to Our Lady and came to the overwhelming conviction: 'I want to be a Catholic'. When she returned from her trip, she went to the Catholic church near to her home but did not receive a very warm welcome. She did not go back there but her intention did not leave her. She then learned that there was a church near where she worked and a meeting for catechumens on Friday evenings. She asked Our Lady for a practical sign as confirmation: a free parking space in our road which is often packed. She was granted this sign. When she met the catechumenate team, she immediately felt welcomed. She is quite clear: she wants to be baptised. During our meeting she added that, since returning from France, and even though she had not started the catechumenate, she had already started to make arrangements to be buried as a Catholic in a Catholic cemetery!
'Remember me when you come into your kingdom'
We met Mr Lin during the visits that we make with a few parishioners on Wednesday evenings to the many homeless people who spend the night at the central station in Taipei. He is a former 'big brother' in the local mafia who spent time in prison and became homeless when he left prison. He is about 70 years old. While chatting with one of our parishioners who was sitting next to him, he told her that he would like to be baptised in the Catholic church and that he prays to Jesus every day. She was surprised and asked him: 'Where did that idea come from?'. He answered that he had seen a film made in Hong Kong in which a former mafia godfather converted and was baptised into the Catholic church, and this baptism redeemed him from his many sins. He too wanted a faith that would provide forgiveness for his sins and would prepare him for the passage into the next life. I invited him to come to the parish. He came for a long meeting and confirmed that he wanted to be baptised, but that it was difficult for him to leave his spot in the station in the evening and come for the catechumenate. Our homeless friends have to protect their spots. We could deal with that and decided that we would give him instruction at the station during our Wednesday evening trips, reading the Gospel of Saint Luke chapter by chapter, including that of the good thief and the parables of mercy. Our volunteers work in relays, one hour a week, so he should be ready to receive baptism by Christmas 2020.
'I do not want to improve myself, I want to spread love'
In December I had the sad realisation that we did not have any new candidates for Catechism this year. Shortly before Christmas, Mr Cai rang the secretary of the kindergarten. He said that he would like to meet the parish priest because he had an 11-year old daughter, an only child, who had a problem that he did not know how to deal with: from the time she was 5 years old she kept telling him that when she grew up she wanted to be a nun. He himself was not a Christian and neither was his wife, who had left him to go to live in China, and his little girl, she had definitely not been baptised. However, faced with the insistence and ongoing nature of the little girl's request, he decided one day to call the nearest church, which was ours. During our conversation, during which I had planned to give her a comic book about the life of Mother Teresa, little Nizhen told me that she remembered that when she was small, she had seen a film about a nun that had made a deep impression on her. I asked her if she had talked about her intentions to other members of her family. She said that she had talked about it with her grandmother, who is a Buddhist. Her grandmother had said: 'You could become a Nigu, a Buddhist nun'. She continued: 'But I said to her no, for two reasons: I do not want to have a shaved head and then the Nigus, their aim is self-improvement, but my goal is to spread love like the nuns.' What amazing clarity of vision! Since then, little Nizhen has joined the ranks of our catechumens and has celebrated Christmas with us, in the first row. Will she become a nun one day? For now, at least, she is starting to prepare for baptism and is making friends on Sunday afternoons with other children in the church courtyard.
Greeting the Blessed Sacrament for the first time
Uling, a forty-year old lady, became passionately interested in Western art during a trip to Europe. She did not fully understand the meaning of many of the religious works. As luck would have it, this very reserved lady rented a room for her work in lodgings managed by some Sisters close to the parish. One day, she asked Sister Lai how she could better understand Christian painting. The Sister told her that the best way would be to attend the Catechism class. She went there with an interest in culture and with no interest in being baptised. Nevertheless, she attended the classes assiduously. On Friday, we have adoration of the blessed sacrament throughout the day in the church and, when the catechism class ends at 9.30pm, we invite anyone who would like to remain to stay to greet the blessed sacrament. The very first time that she took part in this and when the blessed sacrament was pointing in her direction, she felt 'transfixed', like an inexplicable shiver that she had never experienced before, this is how she explained it. Following this experience, she has asked to be baptised.
The Catholic church, a faith of fullness
Shaowei was admitted into the fullness of the Catholic church and had his first communion at the beginning of January. This student from Fu-Jen university was baptised as a child into a small evangelical community. When he arrived in Fu-Jen, he had an opportunity to travel to Taizé where he was very impressed by the ecumenical approach of the community there. When he returned, he decided to go deeper into his Protestant faith. He joined a small ecumenical group of about fifteen people who met at the Anglican church in Taipei and included Protestant, Anglican, Orthodox and Catholic Taiwanese students. Started and managed by laypeople, this little group called itself the 'Henry Newman Group'. During their meetings and studies, he became convinced that fullness of faith is found in the Catholic church and became convinced of the real presence of Jesus Christ in the Eucharist. So he asked one of his friends in this little group, ZhiLang, a young man I had baptised the year before, if he could join the Catechism class in the parish. At the same time, he enrolled in the university's Catholic Taizé group. The whole group, consisting of Christians of different denominations, even the Taiwanese Anglican pastor, attended the celebration of his baptism when he entered the Catholic church. Shaowei chose the name 'Saint Henry Newman' as his baptismal name.
Fr Pierre de la Bigne, MEP